Let's assume that you now have a mattress that works for all bed bases. The next step would be buying a bed frame. While seemingly an easy task for some, most people would shrug it off and say it's nothing but decoration for the bed.
We beg to differ – your bed frame is a decision just as important.
Slats
One of the most important factors about a bed frame is what is unseen: the slats. Although unseen once the mattress is on top, the slats can literally be a make or break decision. The wider the distance between the slats, the greater the chance of wearing and tearing the mattress. It shouldn't be wider than 2.5 inches apart.
There are two common types of slats: sprung and flat slats. Sprung slats have curved wooden slats within the frame that gives a natural bounce to adjust to your profile. The thicker the sprung slats are, the firmer the base is. Beware of cheap sprung slats – these may not support your weight causing breakage to the slats and tears to the mattress. On the other hand, flat wooden slats are relatively cheaper if you're on a tight budget. They can still provide firm support – don't worry.
Box Springs/Foundations
A box-spring consists of a sturdy wooden frame covered in cloth and containing springs. The springs are designed to enhance support for your mattress and the wooden structure provides a firm base. The only problem with the box-spring is its air circulation. It is common to find a box-spring that lays directly on the floor; this might trap moisture inside the box-spring and then become exposed to mould.
TIP: Choose a box-spring that comes with a bed frame or legs that avoid touching the floor.
A foundation is very similar in appearance to a box spring – only that it has wooden slats underneath all the fabric it's covered with. The sole purpose of this bed base is to support the mattress; box springs provide less mattress support and more shock absorption.
How much space have you got?
Have a look at your room. Think of all the items that will go in it.
External or internal wardrobe? Dressing Table? Coat Hanger? Shoe storage? Bag storage? Television and television stand? Dresser? Bedside table? Figure out roughly the size of each of these products. If you were to put all the products you need against the walls, and have half a metre of walk space between your bed and those products, how much space can you afford for the bed?
Do you climb on, or jump?
The purpose of a bed base is to raise the mattress' height, making it easier to comfortably climb in and out of bed. Some factors to consider are your height, the height of the mattress and bed base combined, comfort, age, and even health condition. You wouldn't want too low a bed if you suffer from arthritis in the same way as you wouldn't go for a high bed and struggle every night trying to get on it.
In general, it greatly depends on how tall or short you are. The average knee height plays between 16-24 inches from the floor, so you need to choose a bed base where you can lay your feet firmly on the ground and push against it to stand up easily.
Sit on the edge of your mattress or bed. If your knees are higher than your hips, it's too low. If your knees are lower than your hips, then it might be too high. Once you find a level where they are more or less equal, that's the ideal bed height for you.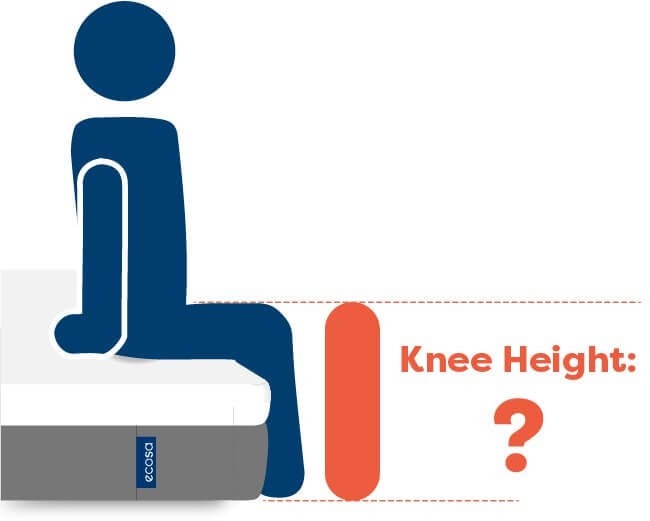 FACT: The Ecosa Mattress is 10″ thick
Related Article: 3 Factors to Consider When Buying a Mattress for Back Pain
Style and Material
While style is very personal, here's a list of questions to guide you when choosing a bed base:
What colour is your wall?
What is the theme of your bedroom, and of your house?
What colour is the rest of your furniture?
Will it match the carpet, tiles, or timber flooring?
What is the environmental impact of the materials used?
Can it be recycled?
Are you after wood, metal, plastic, leather or faux leather?
Is the bed going to be exposed to a lot of light resulting in some materials to fade in colour over time?
How easy will it be to clean?
Does it come in flat-pack?
You need to consider whether you (or the person you hire) will be able to get it up the stairs, and through the door. Best bet is to buy a bed frame that comes in a flat pack for easy delivery and movement until it's assembled in your bedroom. Check the dimensions of the box to ensure it will fit in your doorway, and the width of your hallways.
Lastly, act your wage
While you might have gone through your latest Vogue subscription and fell in love with a mahogany bed frame, forking over $5,000 isn't within your budget. Be practical with the amount you're going to spend. That mahogany bed frame might be the most beautiful accentuating piece for your bedroom, but it won't look as nice when it's the only item in your house because you wasted a few months to purchase it.
There's nothing wrong with having a budget. Remember that the money you spend on the bed frame is money that isn't going to other necessities like your groceries. Know your financial limit and stick to it. Statistically, you'll be spending a third of your life in bed, so it's good to invest some money in a good bed frame that will last over the years. Roughly, people spend around the $1000 mark.
A bed base is so much more than just a decoration; there are so many factors to consider just buying one. At the end of the day, ask yourself what your priority is with your bed – if it's for style, comfort, support, or even all of them. That'll help you narrow down the list.